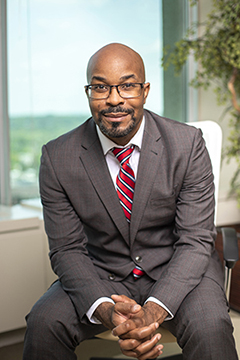 Edward Jason Arandjelovic, aka "Jason," joined the Information and Privacy Commissioner of Ontario (IPC) in May 2021 as the new Chief Financial Officer and Director of Corporate Services.
Jason joined the IPC from the Ontario Public Service (OPS), where he started his career back in 1998. Over the course of his twenty-three-year career in the OPS, Jason worked at various OPS ministries in several different roles.
In 2016, he became the Finance Director at the Ministry of Municipal Affairs and Housing (MMAH), where he led MMAH's strategic multi-year fiscal planning process and financial management framework, supporting government priorities in achieving program objectives, cost efficiencies, and program modernization.
In 2019, he took on another leadership role in MMAH as Acting Director of Corporate Services, where he supported MMAH's policy agenda and implemented OPS corporate initiatives and ensured compliance with OPS directives and policies. In this role, Jason also led MMAH's I&IT initiatives and digital strategies, freedom of information procedures, and facilities management.
Jason holds a Bachelor of Arts in Economics from York University, and he is also a Chartered Professional Accountant, Certified Management Accountant.
During his personal time, Jason enjoys the company of friends and family, and he is currently learning how to play the piano.
This post is also available in: French